Death knell of a donkey?

When Mr. Bumble, the unhappy spouse of a domineering wife, is told in court that "...the law supposes that your wife acts under your direction", replies:


"If the law supposes that," said Mr. Bumble, squeezing his hat emphatically in both hands, "the law is an ass - an idiot".

Gedurende die afgelope maand het ons (durf mens dit sê "beleërde?) president waarskynlik meer as een keer die behoefte ervaar om soos Mr. Bumble, uit Charles Dickens se Oliver Twist, te skreeu "The law is but an ass!", want soos die fiktiewe karakter, bevind hy hom ook in 'n verhouding, waarin hy gedomineer word – deur die Guptas.

Ons weet dat dié idiomatiese uitdrukking van Engelse oorsprong is, want in hul volkstaal beteken 'ass', 'n donkie en verwys dit dus beslis nie na 'n Amerikaanse "ass" nie. Soos ons almal weet, het donkies deur die eeue 'n reputasie vir deugsaamheid, steeksheid en hardkoppigheid verdien, maar was hul tog, tot baie onlangs uiters nuttig vir die ganse mensdom. Vir Christene versinnebeeld die donkie ook nederigheid.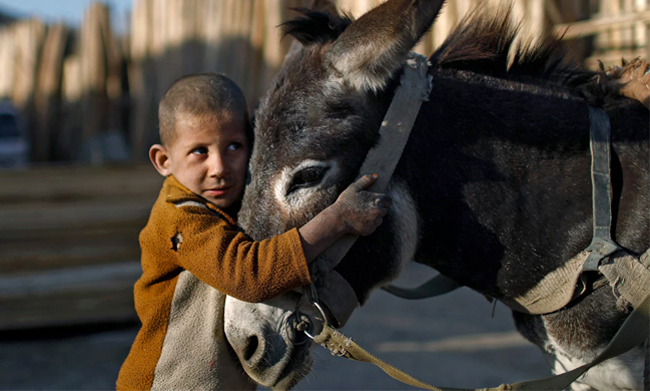 The well-known quotation above, originates from a play published by the English
dramatist George Chapman in 1654 - Revenge for Honour:

"Ere he shall lose an eye for such a trifle... For doing deeds of nature! I'm ashamed. The law is such an ass" was brought to fame by Charles Dickens, who put it into print in Oliver Twist, in 1838.

It is common knowledge that although the donkey is these days only sought for its skin, from which gelatin is extracted for use in exotic oriental medicine, its value as a commodity has sky rocketed in the past year or two.

A dark underhanded, illegal trade is now prevalent in our almost lawless country where ruthless foreign vultures are decimating our remaining donkey population ….. whilst a similar band of thieves are stealing our national assets - ostensibly with the assistance of number one.

Ons Grondwet en ons onafhanklike regstelsel het oor die afgelope paar maande duidelik die president al hoe meer begin frustreer met die gevolg dat hy sy ontevredenheid daarmee al hoe duideliker te kenne begin gee het. Hy het ondermeer die onvoorsiene uitkomste en doel van die oppergesag van die reg, beter bekend as die "Rule of Law" en die onafhanklike artikel 16 instansies daaronder, insluitende ons vrye pers openlik begin bevraagteken.

Legalbrief, the weekly mouthpiece of the Law Society of South Africa, noted in its June 30th issue, that just when we thought the state capture revelations could be no more mind-numbing in their extent, two astonishing reports take the Gupta involvement in the affairs of government to new depths. Reports by both News 24 and the Sunday Times reveal e-mails and other documents obtained through the #GuptaLeaks which show how the family spied on prominent South Africans and had access to their travel movements. A second Sunday Times report reveals how the Guptas attempted to extend their political influence over the minerals-rich Democratic Republic of Congo and their attempts to have Atul Gupta appointed as an honorary consul, based on a claim that he had 'earned' a 'nomination of State Minister by the South African government'.

In the past week, we also saw the publication of the damning "joining-of-the-dots" compilation in which Outa claims to prove that Jacob Zuma is unfit for the role of President.

Dit is egter intussen uiters bemoedigend om te let dat so baie Suid-Afrikaners, ongeag hul diverse politieke sienings, geluide in die openbaar en in sosiale media maak ter onvoorwaardelike ondersteuning van ons Grondwet en sy instansies.

We, the citizenry, ably supported by many NGO's and the very section 16 institutions, who believe in the value of our Constitution are required to now actively stand together and give our unwavering support to our courts and fearlessly demand that our legislative authority ensures that the administrative arm of our state abide by the Rule of Law. If not, our Supreme Law and the institutions thereunder may very well become, like the donkey, but a relic of the not so distant past.


Groete,
Hennie en / and Eberhard