Rental Housing Tribunals – Huurbehuising Tribunale



In die aanhef tot die Wet of Huurbehuising (50 van 1999) word dit gestel dat aangesien:

Artikel 26 van die Konstitusie van die Republiek bevestig dat elkeen 'n reg op toereikende behuising het en dat die staat dus redelike wetgewende en ander maatreëls moet tref, binne beskikbare bronne, om die haalbaarheid van die doel progressief na te streef;
Niemand uit sy plek van woning gesit mag word nie en geen woning mag gesloop word sonder 'n bevel van 'n bevoegde hof nie en dan ook eers slegs nadat die hof al die relevante feite beoordeel het;
Geen wetgewing uitsettings op 'n arbitrêre basis mag toelaat nie; en
Huurbehuising 'n sleutel komponent van die behuising sektor daarstel
die betrokke wet noodsaaklik was om die voorsiening van huurbehuising te promoveer.
In attempting to achieve the aforesaid goals the Act was designed to balance the rights of tenants and landlords and to create mechanisms to protect both tenants and landlords against unfair practices and exploitation and therefore introduced mechanisms through which conflicts between tenants and landlords can be resolved speedily at minimum cost to the parties.

Die metode wat die wetgewer daargestel het om die onvermydelike konflik tussen huurder en verhuurder by te lê was deur die instelling van Provinsiale Huurbehuising Tribunale wat onder die jurisdiksie van elke Provinsiale Wetgewer staan.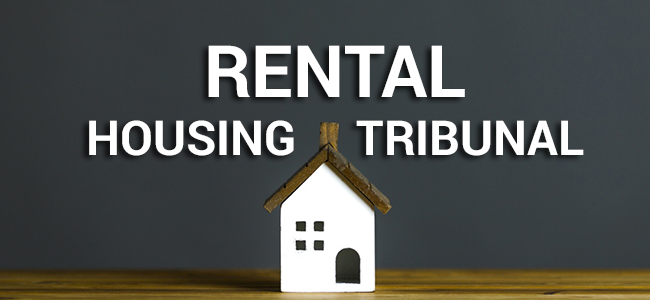 The Rental Housing Tribunals (RHT) was established as a free service that falls under the Rental Housing Act. The purpose of RHTs was to create a more stable rental housing sector and to allow disputes to be settled easily. RHTs will upon application investigate, mediate and conduct hearings in response to a dispute.

Die doel van die tribunale is om samewerking tussen verhuurders en huurders aan te moedig. As 'n onenigheid ontstaan weens 'n onbillike praktyk, kan 'n RHT help om die probleem op te los in plaas van lang en duur hofsake. Tribunale kan nie 'n uitsettingsbevel gee nie, maar Landdroshowe sal normaalweg nie 'n uitsettingsbevel toestaan op aansoek van 'n verhuurder nie tensy die aangeleentheid eers na die RHT verwys was nie.

The Tribunal is to encourage cooperation between landlords and tenants. Should a disagreement arise because of an unfair practice, RHTs can help resolve the issue instead of lengthy and costly court cases.

Reasons for referring a dispute to a Tribunal by a tenant can be any one the following (which is not an exhaustive list):

That the rental property is not being properly maintained by or on behalf of the landlord;
Unlawful evictions and unlawful notices to vacate;
Not providing monthly statements;
Not providing municipal services.
Beide huurders asook verhuurders kan klagtes indien by die tribunaal indien hulle glo dat die ander party onbillik optree of in stryd is met hul verpligtinge ingevolge die huurooreenkoms. 'n Huurder wat nie redelik na die huurwoning omsien nie, kan byvoorbeeld 'n grond daarstel vir die verhuurder om by die tribunalal te kla.

From a practical perspective it would always be better for both landlord and tenant to attempt to avoid conflict in the first place and it is therefore important for a landlord to write up a lease agreement for both the tenant and landlord to sign. Verbal agreements do exist, but if a tenant has asked for a written agreement, the landlord must provide one.

Van die belangrikste punte om in 'n huurooreenkoms in te sluit behels ondermeer die volgende:

Die huurgeld betaalbaar is, asook waar, wanneer en toekomstige eskalasie.
Dat die eiendom verhuur word as woonhuis en nie vir enige ander doel nie.
Die duur van die huurooreenkoms.
Wie het die verantwoordelikheid om die eiendom te onderhou.
Voorsiening moet gemaak word dat die eiendom deur beide partye besigtig word, voor aanvang van die huurooreenkoms en weer aan die einde van die huurooreenkoms. Dit is om kennis te neem van enige onreëlmatighede of skade aan die eiendom.
Resorting to declaring a dispute through an RHT
Taking your complaint to the tribunal may be your final decision but while the complaint is being processed it is still necessary for the parties to perform in terms of the agreement. Parties are to ensure that rental is paid in time and that the property is maintained.
Important steps for a RHT dispute resolution:
A letter with the nature of the complaint must be sent to all parties involved.
The RHT will upon receipt of such letter start an investigation.
Mediation will in the first instance be instituted to settle the dispute.
If there is no settlement, a tribunal hearing or arbitration could follow.
After arbitration, a ruling will be handed down which will be binding on both parties. This would be enforceable in terms of the Magistrate's Court Act.
Neem kennis dat die Wetgewer ten doel gestel het om 'n gratis en doeltreffende prosedure daar te stel om probleme tussen huurders en eienaars by te lê. Indien 'n party egter ontevrede is met 'n beslissing, kan dit na die Hooggeregshof op hersiening geneem word. U regsadviseur kan geraadpleeg word indien u onseker is oor watter stappe u moet doen, maar geen regsverteenwoordiging word egter by die RHT proses toegelaat nie.

Groete / Regards


Hennie & Eberhard