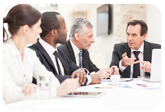 The Companies Act And Conflicts Of Interest: The Risks Of Non-Compliance
There is no doubt the drafters of the new Companies Act ("the Act") considered conflicts of interest as crucial to governance. It is an unalterable section of the Act and thus overrides the Memorandum of Incorporation if it allows conflicts of interest.
The Act is specific in terms of its requirements and the price for not adhering to the Act can be high.
How does it work?
If a director or a related person has a personal financial interest (defined as a material interest to which a monetary value can be attached) in an entity and the business considers doing business with this entity, the director
must
disclose this to the board, answer any questions put to him and then be recused from the meeting. The director cannot vote on this matter or execute any documents in relation to this matter (unless requested to by the board).
Similarly, should a director or related person acquire a personal financial interest in a business that the company has a material interest in, this matter is to be "promptly" disclosed to the board.
Who does it apply to?
All directors, alternate directors, members of board committees and "prescribed officers" (managers who have control of the business or a significant slice of the business).
Included in this net are people related to any of the above. Spouses, life partners and people related to a second degree of consanguinity are related persons. Juristic persons (e.g. companies) are related persons to the extent they are directly or indirectly controlled by a person.
This is something to be particularly careful of when involved in a group of companies.
A director is required to inform him or herself as to what interests a related person has. Ignorance is not acceptable.
The risks of non-compliance
Any contract entered into where there is an undisclosed interest is void. Only a subsequent resolution of shareholders or a court can ratify this.
A director who does not declare an interest can be held personally liable by affected parties and can face criminal charges.
Although the Act does not prescribe how to manage conflicts of interest, companies should have a register of interests and have this signed at every board meeting to keep this important subject top of mind.

Provided by May and Company
© DotNews. All Rights Reserved.
Disclaimer
The information provided herein should not be used or relied on as professional advice. No liability can be accepted for any errors or omissions nor for any loss or damage arising from reliance upon any information herein. Always contact your professional adviser for specific and detailed advice.