The Revised Employment Equity Act: Where Does It Leave You?
Changes to the Employment Equity Act ("EEA") became effective on 1 August. They will force businesses to focus more on transformation in their businesses and to carefully review their human resource policies.

The main changes
Discrimination: Employers (all employers are subject to the unfair discrimination provisions of the EEA) may not discriminate, either directly or indirectly, against an employee on "the grounds of race, gender, sex, pregnancy, marital status, family responsibility, ethnic or social origin, colour, sexual orientation, age, disability, religion, HIV status, conscience, belief, political opinion, culture, language, birth or any other arbitrary ground".

A difference in pay or conditions of work between "employees of the same employer performing the same or substantially the same work or work of equal value" is now also specifically declared by the revised EEA to be unfair discrimination, if it is based on any of the above criteria.

Should an employee take you to court alleging discrimination on the above grounds (excluding arbitrary grounds) the

onus is on the employer

to prove no such discrimination has taken place.


Greater powers have been given to the authorities to get employers to comply with the EEA. Apart from increased enforcement mechanisms, fines for non-compliance have been tripled and linked to business turnover. These could be as much as R2,7m or 10% of turnover (whichever is greater) for serial offenders which effectively could cripple a small or medium sized business.


The threshold turnovers to be a designated employer (only "designated" employers are subject to the affirmative action provisions of the EEA) have been tripled which is positive. However it depends on which industry you belong to - for example, the construction industry threshold is R15 million in turnover which is low for that industry (see the table below for all the new thresholds). Note that if you have 50 or more employees, you are a designated employer regardless of turnover.


Designated employers with less than 150 staff reported every second year but will now be required to submit an annual report.


Employees falling within the protections of the Basic Conditions of Employment Act – below gross annual salary of R205,433-30, may go to the CCMA for discrimination complaints against their employer. This makes it easier for employees and more cost effective to have such complaints heard. As an aside, it is also worth noting that any case of sexual harassment will be heard by the CCMA.


Any psychometric testing of employees must be approved by the Health Professions Council of South Africa.
Note also that the controversial demographic regulations that targets for staff be representative at a national level, as opposed to a regional level, have been withdrawn.
The new turnover thresholds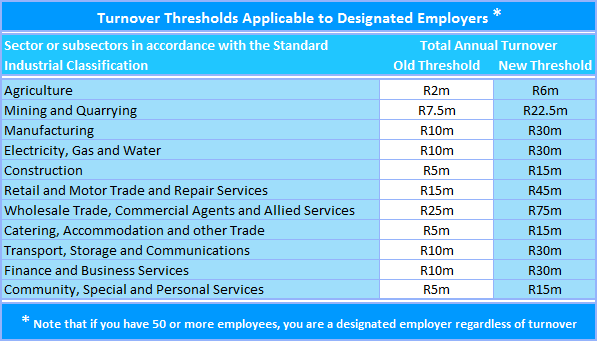 (If the table above does not display correctly, please see the "online version" – link above the compliments slip)

One important implication
Apart from the increased policing and punitive powers introduced into the EEA, employers need to carefully re-examine their human resource policies in terms of the new discrimination clause (see above). If an employee takes you to the CCMA for discriminatory policies, the burden of proof lies with you. The way to establish this proof is through clear policies (remember the wording includes "indirect" discrimination which means you will need to be very careful in your policies) which will stand up to scrutiny.
You will thus need to consider why you pay more for experience, responsibilities of the job, skill and qualifications. Depending on your business you may need to consider job grading and other personnel policies. This will clearly be a burden for SMEs who do not have formal guidelines or policies.
The amendments to the EEA are now law and need to be carefully analysed and considered.

Provided by May and Company
© DotNews. All Rights Reserved.
Disclaimer
The information provided herein should not be used or relied on as professional advice. No liability can be accepted for any errors or omissions nor for any loss or damage arising from reliance upon any information herein. Always contact your professional adviser for specific and detailed advice.