Mid-Term Budget – Tax Highlights
The newly appointed Finance Minister, Tito Mboweni, delivered the 2018 mid-term budget statement on 24 October 2018 pledging to fix the South African Revenue Service (SARS) as a matter of urgency.

SARS will receive R1.4 billion more over the next three years to help with efficiencies.


More items to be zero-rated for VAT

Earlier this year, a panel of experts were commissioned to investigate mitigating the effect of the Value-added Tax (VAT) rate increase on low-income households.

The panel suggested that six items be considered for zero-rating, while pointing out that targeted expenditure would be more effective in helping low-income households.

In response, government proposes to zero-rate white bread flour, cake flour and sanitary pads from 1 April 2019.


ADMINISTRATIVE PENALTIES FOR CORPORATE INCOME TAX (CIT) TO BE IMPOSED

SARS will be imposing administrative penalties from December 2018 for outstanding Company tax returns. Previously, only outstanding personal income tax returns were subject to the imposition of penalties.

The penalties range from R250 to R16 000 per month that non-compliance continues, per outstanding return, depending on a company's assessed loss or taxable income.






Table: Amount of Administrative Non-Compliance Penalty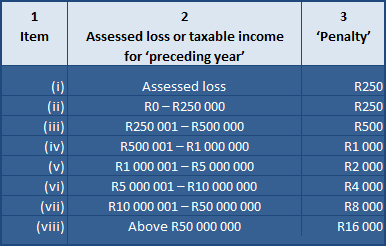 To prevent the imposition of these non-compliance penalties any outstanding company tax returns need to be submitted before the end of November 2018.

Company income tax returns must be submitted within 12 months from the date on which its financial year ends. A dormant company is required to submit any outstanding returns prior to 2018 to prevent a penalty being imposed.

The criteria for the exception in 2018 are set out in Notice 600 of 15 June 2018, which is available on the SARS website.


© DotNews. All Rights Reserved.
Disclaimer
The information provided herein should not be used or relied on as professional advice. No liability can be accepted for any errors or omissions nor for any loss or damage arising from reliance upon any information herein. Always contact your professional adviser for specific and detailed advice.