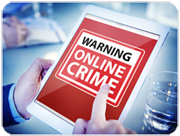 Warning: Cyber Crime Continues To Rise
Last year (CA(SA)DotNews November 2013 issue) we warned about the increasing trend in cyber crime. Although there has been a response from business to fight this scourge, there has also been a marked rise in the sophistication of hackers. A recent American survey puts the global cost of cyber crime at $400 billion to $575 billion annually.


The risks

Remember that SMEs are a primary target of hackers and it is not just money they are after – intellectual property is frequently stolen. The main provisions of the Protection of Personal Information Act (POPI) are due to come into operation soon and this places business at risk of facing a penalty of R10 million or ten years imprisonment should protected data breaches occur.
If you haven't taken action to counter this threat, now is a good time to start.

© DotNews. All Rights Reserved.
Disclaimer
The information provided herein should not be used or relied on as professional advice. No liability can be accepted for any errors or omissions nor for any loss or damage arising from reliance upon any information herein. Always contact your professional adviser for specific and detailed advice.