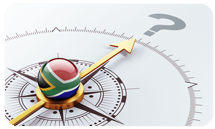 South Africa: Did You Know?
South Africa is the second largest exporter of fruit. It is behind China but ahead of the USA and Brazil.
We invented coal to oil technology. Sasol took over research done by Germany in World War 2 and now produces 28% of South Africa's fuel. It has also set up plants in the Middle East and the USA.
The most diverse and iconic fossils are found in South Africa. 80% of mammalian fossils were found in the Karoo Supergroup rocks which cover two thirds of the country.
Two Nobel Peace Prize winners lived on the same street in Soweto – Nelson Mandela and Archbishop Tutu both lived in Vilikazi Street.
We are the only country to have both built and dismantled our own nuclear weapons.
© DotNews. All Rights Reserved.
Disclaimer
The information provided herein should not be used or relied on as professional advice. No liability can be accepted for any errors or omissions nor for any loss or damage arising from reliance upon any information herein. Always contact your professional adviser for specific and detailed advice.