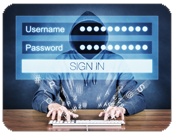 Beware Cyber Crime: It's Getting Worse
In the first quarter of 2015, the number of cyber-attacks doubled over 2014. The message is clear – cyber criminals are getting more sophisticated (for example, one of their new weapons resides in your hardware which makes traditional anti-virus techniques ineffective) and are stepping up their activities.
Research has also shown how seldom people change passwords and how many people use the same password for their applications. Worse still, 43% of us don't place much value in passwords. We are making it easier for cyber criminals to access our data.
Remember that everyone – from banks to businesses to individuals – is considered to be fair game by the hackers.
© DotNews. All Rights Reserved.
Disclaimer
The information provided herein should not be used or relied on as professional advice. No liability can be accepted for any errors or omissions nor for any loss or damage arising from reliance upon any information herein. Always contact your professional adviser for specific and detailed advice.