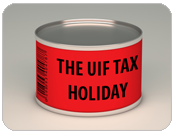 Updates – UIF, BEE, SARS And Cyber Crime
Some timely updates on topics we have covered previously -
Canned: The UIF Tax Holiday
In his February Budget speech, the Minister of Finance announced a one year reduction in UIF (Unemployment Insurance Fund) payments from a monthly maximum of R148.92 individual deduction to R10 per individual. This was to reduce the R72 billion surplus sitting in the fund. This would have put R15 billion back into consumers' and businesses' pockets (the employer matches the individual's contribution to UIF).
The proposal has been withdrawn, at least for the moment, "to allow more time for consultation".
This is a pity as a UIF tax holiday would have helped counteract the impact of the income tax increase also announced in the February speech.
© DotNews. All Rights Reserved.
Disclaimer
The information provided herein should not be used or relied on as professional advice. No liability can be accepted for any errors or omissions nor for any loss or damage arising from reliance upon any information herein. Always contact your professional adviser for specific and detailed advice.