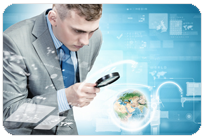 SARS Goes Global Investigating Your Tax Affairs
SARS has extended its ability to query, interrogate and find out about our tax matters. What isn't so well known is that these powers are rapidly extending across the globe.
South Africa has signed multilateral and bilateral taxation agreements with over 60 nations (and counting). This is part of a global trend as countries seek to maximise the tax revenues due to them by fighting tax evasion and avoidance across international borders.

What can SARS do?

In South Africa, SARS can gather information from taxpayers to ensure compliance. It can also obtain information from third parties. It can compel third parties who owe a taxpayer (or who hold assets for a taxpayer) to pay SARS for tax liabilities unpaid by the taxpayer. SARS can aggressively pursue legal avenues to recover tax liabilities.
By signing the multilateral and bilateral agreements, SARS is seeking to be able to operate globally as it does within South Africa's borders. These agreements thus include for example –
Routine exchange of information on taxpayers,


Examining taxpayer affairs in these foreign countries,


Freezing of taxpayer assets in these countries and


Getting the assistance of foreign courts to collect tax debts owed to SARS.
These agreements work in both directions – for example South Africa will automatically hand over data on interest earned by United States taxpayers in South Africa and the US will reciprocate with information on South African taxpayers.
Two recent court cases illustrate this –
South African courts recently froze South African assets of an Australian taxpayer who owed Australian tax authorities R235 million.


An English court gave English tax authorities permission to collect tax debts owed in South Africa.
As the net closes, local taxpayers with undeclared offshore assets should consider entering the Voluntary Disclosure Programme with SARS to get their tax affairs in order. Speak to your accountant!
© DotNews. All Rights Reserved.
Disclaimer
The information provided herein should not be used or relied on as professional advice. No liability can be accepted for any errors or omissions nor for any loss or damage arising from reliance upon any information herein. Always contact your professional adviser for specific and detailed advice.