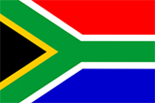 South Africa – punching above our weight
We have 11 Nobel laureates. This is more than Spain, Mexico, Argentina, China and India. The United States leads with more than 300 winners.
South Africa has the 25th largest economy in the world.
As many say, the country punches above its weight.
© DotNews. All Rights Reserved.
Disclaimer
The information provided herein should not be used or relied on as professional advice. No liability can be accepted for any errors or omissions nor for any loss or damage arising from reliance upon any information herein. Always contact your professional adviser for specific and detailed advice.