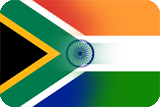 Economics 101: India's Budget Versus South Africa's - Why Is India Forecasting A Growth Rate Four Times Higher Than Ours?
Since South Africa was admitted to the BRIC (Brazil, Russia, India and China) nations, we have developed a closer relationship with the BRIC countries. Two new BRICS finance ministers released their budgets in the last week of February. As two developing countries you would expect that there would be many similarities between the budgets. In fact, they are almost diametrically opposed.

Some background

Until 1991, India had governments (like current South Africa) which believed the State needed to play a strong role in developing the economy. India then began a process of partial deregulation whereby private enterprise was allowed to play a more prominent part. Rapid economic growth followed and India joined China as one of the fastest growing global economies. As with all nations, the financial crash in 2009 slowed India's growth and in the 2014 election a pro-business candidate won and was given a mandate to stimulate the economy.


The two budgets – 2% growth forecast v 8.5%

Both countries are running budget deficits – India's is slightly higher than South Africa's at 4.1% of GDP. There are two options to reduce the deficit – cut costs or grow the economy. The second scenario means that government collects more taxes as this follows from higher economic growth.

This is where the two budgets diverge – South Africa's main focus is fiscal consolidation. Government debt has been growing and needs to be reined in. As South Africa's projected economic growth rate is only 2%, the main features of the budget were increases in personal income tax and in the fuel levy.

By contrast, India announced a reduction of 5% in company tax, streamlined bureaucracy and announced measures to encourage young entrepreneurs. India is projecting to grow at 8.5% this year and some commentators are forecasting it will overtake China's economy.

In short, the South African budget is defensive and will not usher in the sort of growth required to cure our biggest problems such as unemployment.


Why the big difference?

Perhaps the most glaring difference is that India is business-friendly and is expecting a $50 billion investment inflow in 2015. India is clearly successfully wooing foreign investment. In South Africa there is uncertainty for investors as government has failed to issue cohesive investment guidelines and is suspicious of business.

India learned in 1991 that too much government interference leads to low growth and little foreign investment. Nearly twenty five years of deregulation has resulted in India becoming one of the global economic success stories.

If we are serious about forging closer ties with the BRIC community, India is a good place to start.

© DotNews. All Rights Reserved.
Disclaimer
The information provided herein should not be used or relied on as professional advice. No liability can be accepted for any errors or omissions nor for any loss or damage arising from reliance upon any information herein. Always contact your professional adviser for specific and detailed advice.