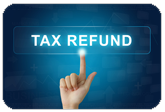 Good News: Employment Tax Incentive Act Refunds Now Claimable
An amendment to the Employment Tax Incentive Act (ETI) brings good news to those employers who have made use of this incentive. If you were unable to offset the full amount of ETI due to you against employees' tax, SARS has now instituted a refund process.
This is now claimable at the end of each six month employees' tax reconciliation period (1 March to 31 August and 1 September to 28 February). Amounts due to taxpayers will only be payable if the taxpayer is fully tax compliant.

SARS are giving taxpayers six months to get their tax affairs in order – if you were not tax compliant at 28 February, you have until 31 August to get compliant and the refund will be paid in that reconciliation cycle. If you are still not tax compliant your refund will be forfeited.

© DotNews. All Rights Reserved.
Disclaimer
The information provided herein should not be used or relied on as professional advice. No liability can be accepted for any errors or omissions nor for any loss or damage arising from reliance upon any information herein. Always contact your professional adviser for specific and detailed advice.