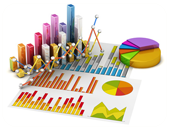 SARS – Latest Tax Stats Looking Good
Generally, we are looking good in international terms -
South Africa's total tax rate is 29% versus a global tax rate of 41%.



South African companies average 7 tax payments per year versus a global average of 26 payments (the rest of Africa average 36 annual payments).

Preliminary statistics from the 2014 tax year (up to November 2014) show that compliance from taxpayers is improving whilst the efficiency of SARS is similarly increasing. Here are some highlights -
94.49% of eligible taxpayers submitted returns on time – an increase of 10.1% from the 3.7 million submitted in 2013


A total number of 5.32 million returns were received timeously by 21 November 2014


99.91 % of returns were submitted electronically


94.98% of returns were assessed within 3 seconds


98.0% of refunds were paid in 72 hours


Over R15.2 billion in tax refunds were paid to 2.1 million taxpayers


1.02 million tax returns from previous years were submitted


SARS collected R436 million in outstanding penalties.
This vindicates the whole eFiling process and effectively means that SARS can quickly assess individual, non-provisional taxpayers and focus on the provisional taxpayers who owe the most tax.

© DotNews. All Rights Reserved.
Disclaimer
The information provided herein should not be used or relied on as professional advice. No liability can be accepted for any errors or omissions nor for any loss or damage arising from reliance upon any information herein. Always contact your professional adviser for specific and detailed advice.