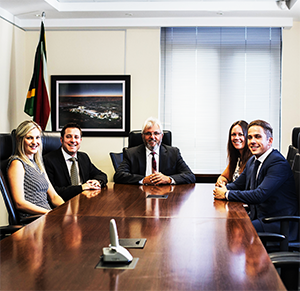 May 2017 - Van Zyl Kruger Directors News
U sou beslis al daarop gelet het dat ons, in die VZK briefhoof en webtuiste, onsself beskryf as
Prokureurs, Aktebesorgers en Notarisse
en in Engels as "
Attorneys, Conveyancers and Notaries".
Ek hoor dikwels die vraag: "You say you are an Attorney, but are you a Lawyer?"
What should just be a simple "yes" can, however, be and often is, not that simple because the person asking, is more than likely not confusing the term, lawyer, but rather that of advocate.
In Afrikaans word "lawyer" vertaal as 'n "regsgeleerde", wat 'n baie meer beskrywende woord is en dus ook minder verwarring tot gevolg het as die Engelse uitdrukking.
An apple is a fruit, but any particular fruit, may not necessarily be an apple! I am an attorney and all attorneys are lawyers, but not all lawyers are attorneys!
In the South African context, a lawyer is someone who has some law qualification which generally allows him or her to legally make a living by providing services associated with some or other field of law. For instance, prosecutors, magistrates, advocates, judges, compliance officers and legal advisors all earn a living by being involved in some or other way with the law.
An Advocate is a lawyer that specializes in court appearances and has the right to appear in any court. An Advocate cannot be appointed directly by a member of the public unless the appointment is made through an attorney. An attorney, on the other hand, is more of a general legal practitioner who may appear in the Magistrates and Regional Courts and, after a legislative amendment, some time ago, now also in the High Court, if he or she holds a LLB degree, and has been granted the right to so appear.
'n Ander wanopvatting wat by die algemene publiek bestaan, is dat die advokaat titel, eintlik 'n ietwat hoër kwalifikasie is as dié, van prokureur. Hoewel dit vyftig jaar gelede nog wel moontlik was om as prokureur te praktiseer sonder 'n regsgraad, is dit reeds lankal nie meer die geval nie. Prokureurs moet nou oor dieselfde kwalifikasies beskik as advokate, om tot die professie toegelaat te word. Prokureurs moet ook 'n kandidatuur van twee jaar deurloop, onder leiding van 'n senior lid van die professie en 'n baie uitgebreide reeks van 4 eksamens aflê alvorens hul tot die beroep toegelaat word. Advokate, aan die ander kant, moet 'n pupilskap van ongeveer 12 maande onder 'n senior advokaat deurloop en ook 'n beroep-spesifieke eksamen aflê.
Only Attorneys may charge members of the public a professional fee for any legal work undertaken and where an advocate was briefed, the attorney involved, is obliged to settle the account of the advocate and to recover the expense thereof from the client.
Lawyers, other than privately practicing attorneys and advocates, are generally in the employ of the state or larger corporations and are paid a salary by such employers. Some of them may even be admitted attorneys or advocates but that is normally not a requirement of the particular position.
Only attorneys qualify to be admitted as Notaries and Conveyancers of the High Court. To qualify for such appointments attorneys must pass special examinations. These specialized attorneys have the exclusive right to undertake notarial work and certain property related work prescribed by statutes such as the Deeds Registries Act, the Bill of Exchange Act and others. The legislator and the courts both place special reliance on notarial acts and where it is deemed necessary to invest documents with particular solemnity, it is frequently provided that they must be notarially executed.
Hoop bostaande gee so bietjie meer duidelikheid oor die rol van prokureurs.
Best Wishes / Groete.
Hennie & Eberhard
© DotNews. All Rights Reserved.
Disclaimer
© LawDotNews. This newsletter is a general information sheet and should not be used or relied on as professional advice. No liability can be accepted for any errors or omissions nor for any loss or damage arising from reliance upon any information herein. Always contact a professional for specific and detailed advice.