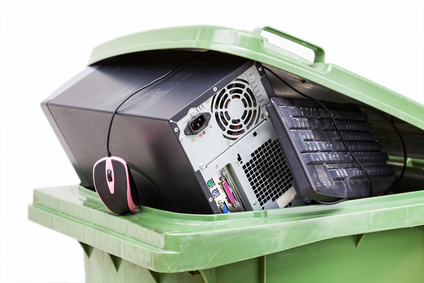 The May Website: Your Dead Laptop – What To Do With It?
"This parrot is no more. It has ceased to be. It's expired and gone to meet its maker. This is a late parrot. It's a stiff. Bereft of life, it rests in peace. If you hadn't nailed it to the perch, it would be pushing up the daisies. It's rung down the curtain and joined the choir invisible. This is an ex-parrot." (Monty Python's Flying Circus)

If your laptop/PC/TV/tablet or cell phone is as dead as John Cleese's parrot, don't just throw it away. "E-waste" (electronic and electrical waste) contains both
valuable
and
hazardous
material, and should always be recovered by specialists.
Don't dispose of e-waste in your normal rubbish collection - contaminants such as lead, cadmium, beryllium and the like pose significant health risks to individuals and communities – but what then do you do with it?
Here's a website with an easy answer. Find your nearest Collection Sites, Recyclers and Refurbishers on the e-Waste Association of South Africa website
www.ewasa.org
– look for the drop down menu "Recycling" to see what's what in your area.
We're talking "anything that runs on electricity" here - discarded computers, entertainment electronics, mobile phones, household appliances, spent fluorescent tubes, batteries, battery-operated toys etc.
Security Note:
Remember to wipe all memory and hard drives thoroughly before disposal – otherwise your sensitive information (think account details, credit card numbers, company secrets etc) could easily end up in the hands of criminals.
© DotNews. All Rights Reserved.
Disclaimer
The information provided herein should not be used or relied on as professional advice. No liability can be accepted for any errors or omissions nor for any loss or damage arising from reliance upon any information herein. Always contact your professional adviser for specific and detailed advice.